Yes, tomorrow is the end of November and so also the end of the free paper piercing pack offer (when you buy the Ornament Keepsakes stamp set/bundle and the Candlelight Christmas Specialty DSP together).
I'll be winding down on Christmas cards after today. There are still a few special cards to show but I won't post those until folks have received them so that it doesn't spoil the surprise. Gift packaging will by my main focus over the next few weeks but if you're ahead of the game and all wrapped up then you can always adapt the ideas for birthdays etc.
Here for now then, is a final card showing all the offer items in combination (and using some more of my stashed flocked acetate – heehee).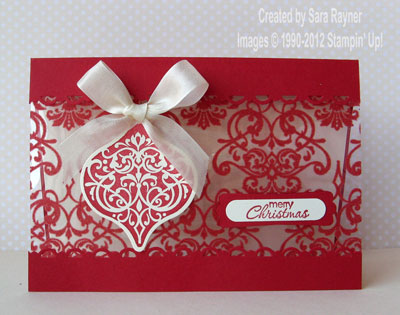 The base card is slightly taller than half A6 landscape in Real Red, folded over to create an A6 shell. The folded over top was punched with with Scallop Trim Border (118402). An A6 card front of flocked acetate from the Candlelight Christmas Specialty DSP (126901) was adhered behind the punched border and then a matching punched border of Real Red card was adhered across the bottom of the acetate. Using the Festive Paper Piercing Pack (127857), the outer template of the large teardrop bauble was pierced onto the left hand centre of a Very Vanilla mat before adhering to the inside back of the card. The elegant large bauble from the Ornament Keepsakes set (W128048 or C128051)* was stamped in Real Red ink onto Very Vanilla card and then die cut with the matching Holiday Ornaments framelit (127816)*. Using the pierced frame behind as a guide, the bauble was popped up on dimensionals on the card front. The sentiment from the Petite Pairs set (W122495 or C122497) was stamped in Real Red ink onto Very Vanilla card and then punched out with the Word Window (119857). This was matted onto a Modern Label (119849) of Real Red and popped up on the card front with more dimensionals. To finish, a bow of Very Vanilla Seam Binding Ribbon (120999) was adhered to the top of the bauble with a glue dot.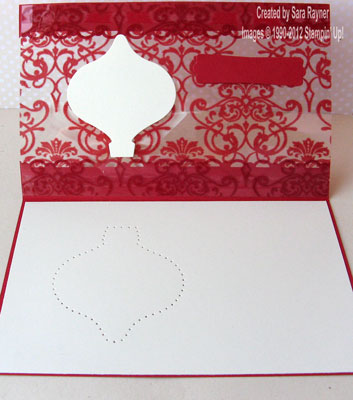 On the inside the pierced frame provides a guide for where to write your message without it showing through the acetate. A die cut bauble and a punched Modern Label were adhered flat on the back of the acetate, lining up with the original shapes, to hide the dimensionals. The bauble also provide a little extra room for messages if needed.
It wasn't until I'd finished the card that I realised the acetate would have matched the bauble better if I'd flipped it the other way up but shhh! If we don't tell anyone they might not notice 

If you'd like to grab the FREE paper piercing pack before it's too late, then please email me straight away or give me a call on 0775 1133886.
Sara xx