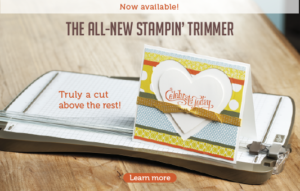 Just in time for Christmas!
The new Stampin' Trimmer (£25.95) has been completely redesigned – by paper crafters, for paper crafters. It makes the perfect Christmas present for a crafting buddy … or for yourself (maybe even  from yourself – sometimes it's the only way to be sure we'll get something we like 

).
The Stampin' Trimmer now has:
an extra wide cutting base so that you can make most of the popular cuts and measurements without having to extend the ruler (which is still there for those larger measurements and it has a stabilising leg, so it won't wobble – need one of those myself, lol);
scoring and cutting blades on the same track with room to hold them out of the way, so you don't have to keep switching blades;
a storage compartment underneath for holding spare blades, stylus etc (the cutting and scoring blade refills will be available in a few weeks);
measurements sealed under a plastic cover so they won't wear off!
Here's a short video with a few more details about this great new trimmer:
Now I haven't got mine yet (I placed my order first thing this morning though

) but we were told at convention that our trimmers would have both metric and imperial measurements on – woohoo, best of both worlds!
If you'd like me to order you a trimmer then please email me or give me a call on 0775 1133886 (or pass my details to family and friends who want to buy you a great Christmas gift). Postage will be free if you/they collect from me, at cost if delivered to me as part of my regular monthly order, or £4.95 if delivered direct to you/them.
Can't wait for it to arrive now!
Have a great weekend.
Sara xx