There's such a beautiful selection of bows on the back of the Autumn/Winter catty that I thought I'd have a go at one I haven't tried before.
I picked this one: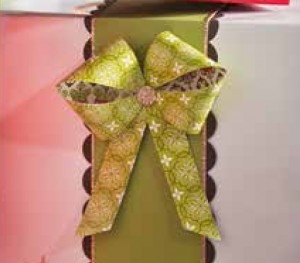 And this is my take on it: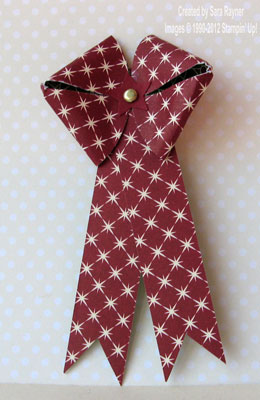 Two strips of Be of Good Cheer DSP (126896) were trimmed to a banner at one end and overlapped. A 2-1/2″ Circle (120906) was punched from the same DSP and cut in half. The outer corners of each semi-circle were folded inwards and secured with an Merry Mini star (126882) punched from Cherry Cobbler card and a Gold Brad (119741). All were adhered to a 1″ Circle (119868) of Cherry Cobbler to use as a base for adhering the bow to a gift.
Not sure whether that's how SU! did theirs but it worked for me 

Sara xx