I made a few of these dinky purses as stocking fillers this Christmas. They're just so easy to make when you've tried them once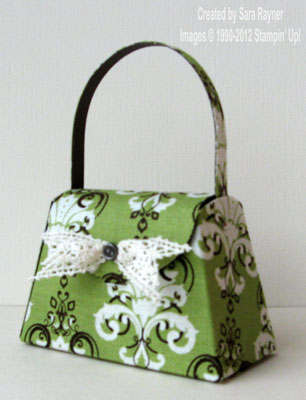 For this particular purse, Early Espresso card was covered first with Multipurpose Adhesive Sheet (120805), then Candlelight Christmas Designer Fabric (126905). It was laid on the Petite Purse die (125606), fabric side down and at an angle (as advised in the Petite Purse tip) to keep the pattern running true when made up, then run through the Big Shot. The purse was assembled, using Multipurpose Liquid Glue (and holding the seams in place for a few seconds for the adhesive to set) and using Mini Brads (122941) to fasten the purse handle in place. A tiny piece of Victoria Crochet Trim (118481) was trimmed and secured to the front flap of the purse with one of the faux button brads from the Vintage Trinkets (118764). This is a great way to use up those scraps of ribbon and any odd brads you may have stashed around.
The ribbon and brad are purely for decoration – they don't play any part in the closure for the purse.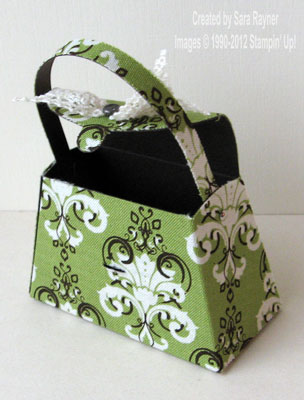 Thanks for stopping by.
Sara xx