Here's an idea for an inexpensive Valentine's gift using the Sealed With Love Simply Sent kit (free when you purchase the My Little Valentine stamp set 3-21 January 2013).
The Simply Sent kit envelopes (10 in a pack) are double sided and so can be closed up and tied with either design on the outside.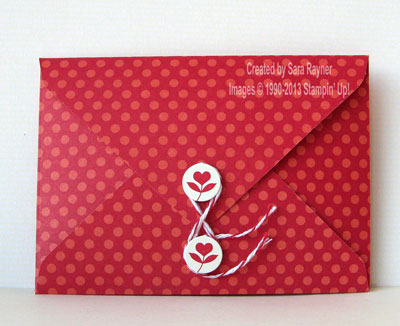 The kit includes the cardstock circles, dimensionals to pop them up on and the Baker's Twine to wrap around to close the envelope. It also includes a mix of notelets (5 with hearts, 5 with flowers). The vouchers aren't included but were made separately and will be popped in the envelope with the notelet.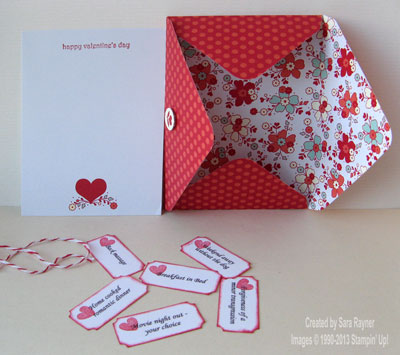 The notelet was stamped with the valentine sentiment from Teeny Tiny Sentiments (W129579 or C120024) (or of course you could use one of the sentiments from the My Little Valentine set) in Real Red ink. This notelet can then be used to hand write a personal message and tell your recipient how to use the vouchers including any "restrictions" eg. you must give 48hrs notice to redeem your voucher

.
The "vouchers" or tickets were made by using the computer to print the words onto Whisper White card and then punching out with the Ticket Duo Builder (126883). I used Monotype Corsiva in 12 point size for the text and I set the printer settings to Photo paper. The printer ink still needs a little time to dry (or be heat set) so that it doesn't smudge but I find this works for my printer, you may need to experiment to see what works with yours. Simply choose activities that fit your purse and that you know will appeal to the person you're sending it to. I used:
Breakfast in Bed
Back Massage
Movie night out – your choice
Home cooked romantic dinner
Weekend away without the dog (she usually comes with us but then one of us has to go out to take her a walk etc. so this allows for a more romantic weekend away)
Forgiveness of a minor transgression (I love this one, I think I could do a whole set of these for hubby )
Other ideas could include:
Get out of shopping
Get out of school run
Night out with the lads with home taxi service collection
You get the idea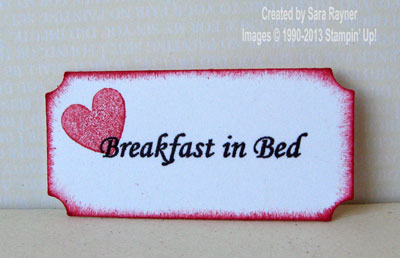 Each voucher was sponged around the edges with Real Red ink and stamped with a little heart after stamping off first to get a lighter tone. I used the heart from the Love & Laughter set (W125475 or C125477) but there are also small hearts in Make a Cake (W126740 or C126742), Create a Cupcake (W121915 or C121982), Itty Bitty Bits (W117056 or C120060) , Lovely Little Labels (W126260 or 126262) and possibly other sets that I haven't spotted.
If you'd like to order a kit in time to make your own voucher set for Valentine's Day then please email me or give me a call on 0775 1133886. You can order the Simply Sent kit for £8.25 or you can order the My Little Valentine stamp set (3-21 January 2013 only) and get the kit FREE!
Sara xx