A sweet treat to share with you today.
First a confession

, I've had some of these skinny cello bags in my craft cupboard ever since they arrived in the main catty back in October … and I've never got around to using them. Boy do I regret it now, I could have so used these for Christmas treats.
Never mind though, at least I've found them in time for Valentines …
and Easter …
and birthdays …
and Halloween etc etc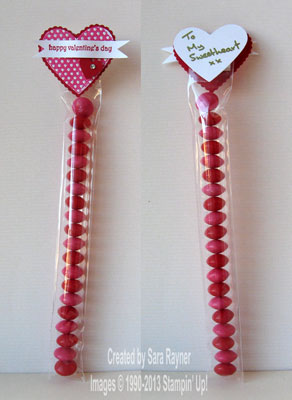 I pulled out just the red and pink skittles from the packet and dropped them alternately into the skinny cello bag (124134 – a package of 50 for £2.75 that's less than 6p each!). (Now you could eat the other colours in the bag … or you could save them for tomorrow's makeover

). The bag seals over with it's own integrated tape. As you feed the skittles in and they settle down the bag, they should automatically flatten out. A Scalloped Heart of Hearts (117332) was die cut and embossed (the embosslit does it all in one go) from Real Red card. One side of the embosslits folder was inked with Melon Mambo ink and another heart run through with Whisper White card, then punched out with the Full Heart (119883). This was matted onto the red heart. The sentiment from Teeny Tiny Sentiments (W129579 or C120024) was stamped onto Whisper White card with Real Red ink, then trimmed to a banner and adhered across the front of the heart. A Small Heart (117193) was punched from Real Red card, popped up on a sliver of dimensional and topped with a Basic Rhinestone (119246). The finished heart was adhered to the top front of the bag. For the message, another Full Heart was punched from Whisper White card and adhered to the back.
Tomorrow this little treat will get a birthday makeover.
Sara xx