Remember from yesterday that I said you didn't need to eat all the other colour skittles? (I know foolish huh?) Well you can use them to make today's birthday version of the sweet treat.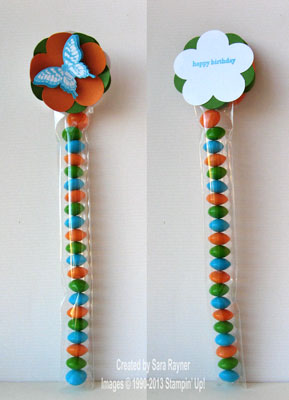 This time the skinny cello bag was loaded with the remaining colours popped in, in rotation. For the front of the bag topper, two Fancy Flowers (118073) were punched from Gumball Green and Pumpkin Pie card, shaped slightly and adhered together with the petals offset. The photo real butterfly from Papillon Potpourri (W123757 or C123759) was stamped onto Whisper White card with Tempting Turquoise ink and punched out with the Elegant Butterfly (127526). A second butterfly was punched from Tempting Turquoise card, the two layered together and adhered to the centre of the flower.
For the back of the topper, two more Fancy Flowers were punched from Gumball Green and Whisper White card and adhered together. The birthday sentiment from Teeny Tiny Wishes (W129579 or C120024) was stamped in Tempting Turquoise ink on the white flower.
I loved how I could match my card colours to the skittles! These make such fun (and inexpensive) little treats.
Have a great weekend.
Sara xx