Hello and welcome to our SUDSOL blog tour today. We're showcasing some of the gorgeous new products available in the Spring Catalogue and Sale-a-bration and I'll be your guide for the next three projects.
Not heard of SUDSOL before? It's Simply Unique Demonstrators Sharing Online

I joined SUDSOL a couple of years ago for the 24/7 access to inspirational ideas, project instructions and templates that I can use to WOW my workshop guests and hostess. SUDSOL offers a free two week trial membership to SU! demos around the world, just click here to sign up.
If you're not a SU! demo then please still take a look at the projects on the tour for inspiration for your own creations, or why not book a workshop and see them first hand?
This first project combines existing catalogue items with the new Canvas Creations, to make a masculine birthday card. It's designed to look like the wall of an old  fashioned study. Just a little of this 12″ x 12″ canvas sheet goes a long way.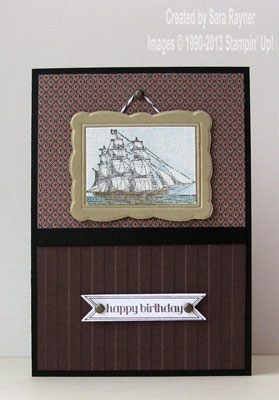 Recipe
Stamp Sets: Open Sea, Itty Bitty Banners
Cardstock: Canvas Creations, Basic Black, Chocolate Chip, Brushed Gold
Ink:  Black Stazon, Soft Suede, Pool Party, Bashful Blue, Chocolate Chip
DSP: International Bazaar
Baker's Twine: Early Espresso
Embossing Folders: Designer Frames, Stripes
Framelits: Bitty Banners
Other: Metallic Brads
Tools: Big Shot, Blender Pens, Aqua Painter
After stamping the ship onto the Canvas with Black Stazon ink, the Aquapainter was used to colour wash just a little Bashful Blue ink over the sky and the Blender Pen to colour the finer detail of the ships hull and the sea. The rectangle Designer Frame was used to emboss Brushed Gold card and then the frame was cut by hand, up close to the embossing. Here's a close up of the framed "painting".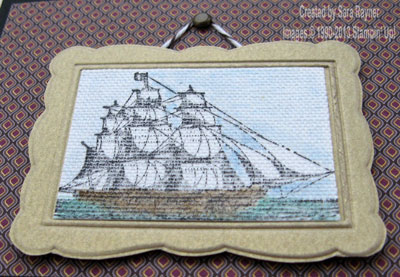 Next up, a simple, bright and cheery card. I love how you can combine the stamps from the Spring Sampler set to tell a little story.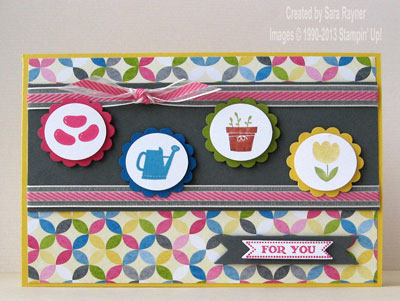 Recipe
Stamp sets: Spring Sampler, Itty Bitty Banners
Cardstock: Daffodil Delight, Basic Gray, Whisper White, Melon Mambo, Pacific Point, Lucky Limeade
Ink/Markers: Melon Mambo, Pacific Point, Cajun Craze, Lucky Limeade, Daffodil Delight
DSP: Sunshine & Sprinkles
Punches: 1-1/4″ Scallop Circle, 1″ Circle
Striped Organdy Ribbon: Melon Mambo
Framelits: Bitty Banners
Tools: Big Shot
Finally, I have a cute little Exploding Triangle Gift Box to share. I found the idea for it in the Patterns and Templates area of SUDSOL's Creative Library and simply brought it up to date with our new products.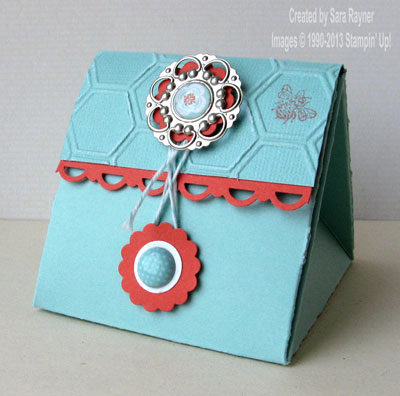 Recipe
Stamp set: Collage Curios
Cardstock: Pool Party, Calypso Coral, Whisper White
Core'dinations Cardstock: Pool Party
Ink: Calypso Coral
DSP: Sycamore Street (Sale-a-bration freebie)
Baker's Twine: Pool Party
Punches: Scallop Trim Border, 7/8″ Scallop Circle, 1/2″ Circle, Itty Bitty Shapes Punch Pack
Embossing Folder: Honeycomb
Other: Designer Builder Brads, Designer Printed Brads
Tools: Big Shot, Sanding Block, Paper Piercer
In case you're looking for it, the teeniest bit of DSP was put behind the bubble of the new Builder Brad 

Here's the back of the box: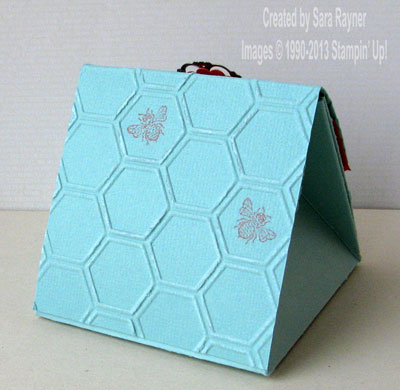 And look what's inside! I guess it would probably have been more in keeping if I used some honey flavoured sweets but these kisses go down well with hubby.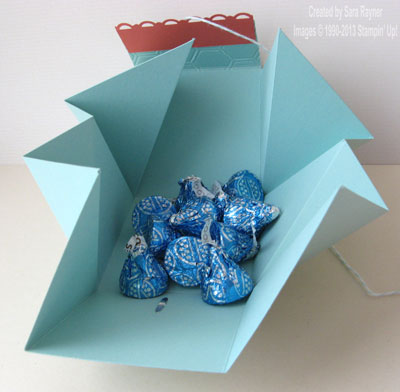 I hope that these projects have inspired you. If you're a demo and would like access to this pattern, as well as templates, techniques and more inspiration than you have time to browse, then be sure to sign up for your free trial. After you activate your membership you'll also be able to view my gallery.
If you're not a demo then why not email me to book your own workshop and I can demonstrate one of these projects for you in person.
Now I'll pass you on to Cathy for the next stop on the tour.
Sara xx
CONTINUE on the Blog Tour