The new Collage Curios set has some sweet little stamps that are just the right size to fit inside the hexagon shapes of the Honeycomb embossing folder.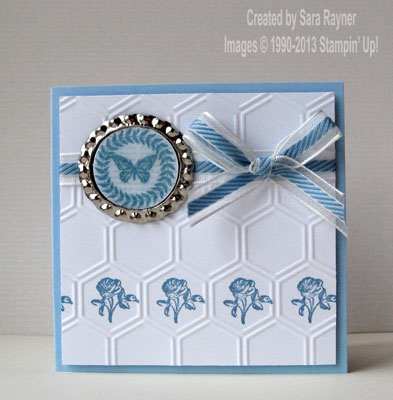 The card base is a small square of Bashful Blue. A mat of Whisper White card was run through the Honeycomb embossing folder (129378). The small rose from the Collage Curios set (W129099 or C129102) was stamped in a row of hexagons using Marina Mist ink. Striped Marina Mist Organdy Ribbon (129292) was wrapped around the mat and a small bow of the same ribbon was adhered with a Mini Glue Dot. The card layer was popped up on dimensionals on the card front. After stamping the circular script with Bashful Blue ink onto Whisper White card, it was then overstamped with the leafy circle using Marina Mist ink. The butterfly was stamped, also in Marina Mist ink, in the centre of the circle and then it was punched out with the 1″ Circle (119868), adhered to a large flattened Soda Pop Top (129388) and covered with Crystal Effects (101055). Crystal Effects were also used to adhere the Soda Pop Top to the front of the card (you need a little patience to let the Crystal Effects dry for a while – I'd recommend 30-45 minutes, possibly longer if you apply it thickly).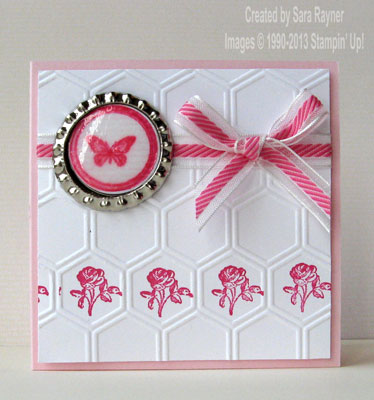 This version was made with a Pink Pirouette and Melon Mambo colour combination and a different circular frame, from the same Collage Curios set.
I guess I just need to make one in Old Olive now and that's all the new Organdy Ribbons used 

Which do you prefer?
Sara xx