I've been sewing! 

I don't do a lot of that these days. I'm too busy paper crafting usually, but this combined both of course.
This card was my test drive of the new Sweet Threads Simply Sent kit (126924) from the Spring/Summer catty. The kit (£11.95) comes complete with everything you need (with the possible exception of scissors) to make 8 cross stitched cards, including envelopes for sending. If you'd like to add a sentiment, you can combine it with the Essentials stamp set, as I did here, to get 15% off the bundle (131105), making it £14.95.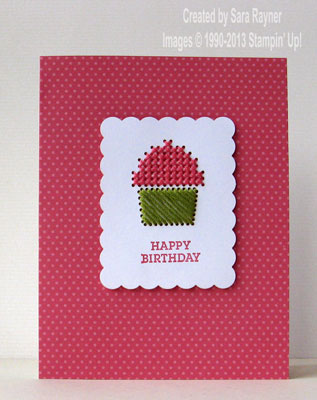 As recommended in the instructions that come with the kit (handy), the sentiment was stamped onto the ready pierced card, with Primrose Petals ink, before starting to stitch. The cupcake base was completed with the full six strands  of floss in satin stitch and then just three strands were used for the cross stitched cupcake frosting. There was plenty of floss left over to keep for another project.
This kit is perfect for those times when you want to take some crafting with you, when you're on the move or on holiday perhaps, and don't have much room for supplies. It takes up minimal space and still lets you get your crafting fix. 

Thanks for stopping by.
Sara xx