Well it was touch and go whether we had our team training yesterday with such awful weather but we just managed it, with only a few drop outs from team members who had the worst of the conditions.
I was so glad that we did manage to get together – it's always such a great atmosphere – I'm among people who understand me! Lol!
These were the swaps that I made for everyone else. There was a choice of red …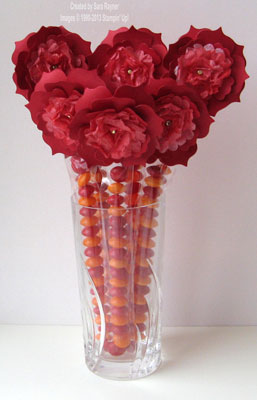 or blue …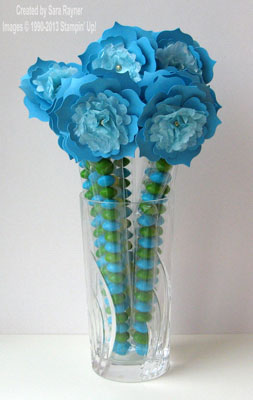 The skinny cello bags (124134 – they're on page 161 of the main catalogue – I know people have had trouble finding them) were filled with either Skittles or Jelly Beans in just a couple of colours and then sealed. Fun Flowers (121812) were die cut from either Real Red or Tempting Turquoise card. Creped Filter Paper (129393) was spritzed with matching home made shimmer spritz (as we made in our Template and Technique Classes this week) and when dry was punched out with the 7/8″ Scallop Circle (129404) x 2, 1-1/4″ Scallop Circle (127811) x 2 and the 1-3/4″ Scallop Circle (119854) x 2. (It's definitely better to spritz, dry then punch, in that order. I tried a batch punching then first and had to chase them all over with the spritzer as they blew away

). All the flowers were layered together, secured with a Metallic Brad (119741) and then the Creped flowers were scrunched up in the centre. These were adhered back to back with a plain die cut flower on either side of the top of the bag.
I'll share the gorgeous swaps I got in return as soon as I'm home in daylight to photograph them.
Want to come to our next team training? Drop me an email and I'll let you know as soon as we confirm the date of the next one.
Sara xx