Sale-a-bration has been in full swing for three weeks now and there are just four weeks left to go, to grab your fabulous Sale-a-bration freebies.
Did you realise that you can get even more freebies if you host a workshop?

WHY NOW IS THE IDEAL TIME TO HOST A WORKSHOP!
We don't mind whether you call it a party, a workshop or a class. To us, it's any chance to get together and have fun crafting 

You bring the friends and we'll bring the crafts. There's no need put on lots of food and drink – a cuppa and maybe a biscuit is all it takes (unless you want to do more). Don't have space? Then just keep it to a small, select group or why not have a "virtual workshop" – just share the catalogues out to friends and collect the orders in.
Either way, if you and/or your friends between you, have orders amounting to £150 or more, then as the hostess you'll get a free pack  (two 12″ x 12″ sheets) of Silver Glimmer Paper, great for adding some sparkly trim, punched shape accents and die cuts to all your crafting projects.
… and the Glimmer Paper is in addition to the regular hostess benefits that you can qualify for at any time of year!
For £150 of orders that's £25 of hostess credit (that you get to spend on anything in any current catalogue, not just the hostess products – the hostess products just represent better value

). Here's just one example of what you might choose: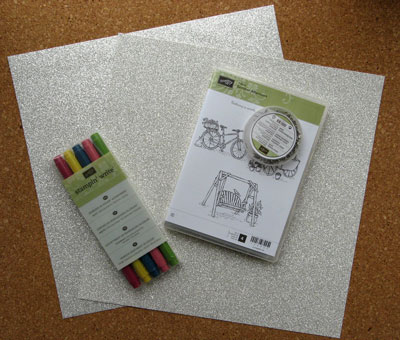 And of course if you've placed your own order of £45 or over then you'll also have a separate Sale-a-bration freebie on top of that.
Maybe you're having quite a few friends round or sharing the catalogue with your regular craft group?
If the orders come to £300 or more then you'll get the free pack of Silver Glimmer Paper and the Madison Avenue stamp set (your choice of clear or wood mount) and the Sycamore Street DSP (the photo shows 6″ x 6″ but you get full 12″ x 12″) and the Sycamore Street Ribbon & Button Pack (4.6m each of three ribbons and 36 buttons) …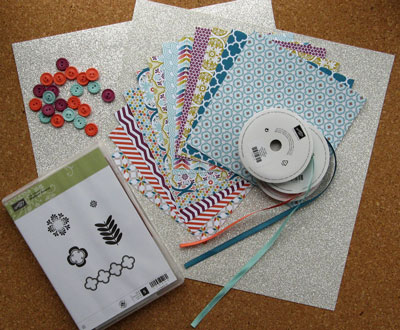 … and you'll qualify for £50 hostess credit to spend on anything you want …
… and you'll get 50% off any full-priced item. That Typeset Alphabet that I mentioned yesterday usually costs £80.95 but you'll pay just £40.48. Or if you don't have a Big Shot yet, then instead of it costing £87.95 you'll pay just £43.98!
… and you'll still get your Sale-a-bration freebies if your personal order was £45 or over.
Win! Win! Win!
Ready to book your workshop/party/class/get together? Still not sure what you can get and have a few questions for me? Then just email me or give me a call on 0775 1133886.
Have a great weekend.
Sara xx