CASE time again 

.
(See here for an explanation if you're only just joining me).
Here's Krista's dinky tote bag, using You Are Loved: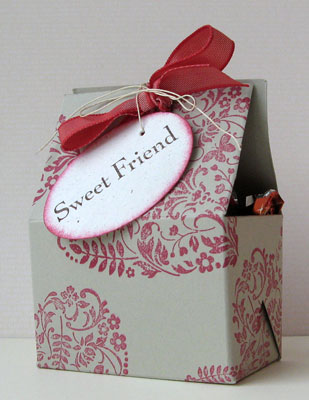 It's just big enough to take 2-3 choccies and Krista kindly shared that she'd used US demo,  Dawn Olchefske's video tutorial, to make it.
Here's my bright and sunny SAB version: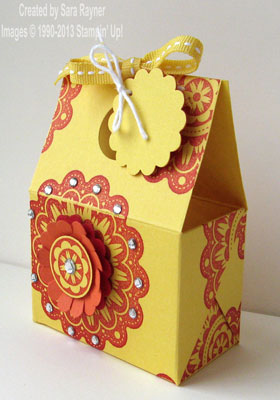 Although the 1-1/4″ Scallop Circle punch isn't actually designed to go with this stamp (in terms of punching out the flower centre), I liked the effect of layering it over the top.
Suggested SAB Bundle
Brights cardstock (121698) – £6.25
1-1/4″ Scallop Circle punch (127811) – £14.25
3/4″ Circle (119873) – £11.50
Daffodil Delight Stitched Grosgrain Ribbon (126872) – £4.50
Real Red inkpad (126949) – £4.95
Basic Rhinestones (119246) – £4.50
Total – £45.95
Quint-essential Flower (132202) – FREE
Thanks for stopping by.
Sara xx