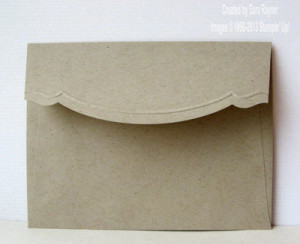 The Borders plate provides one way to decorate your envelopes. Another way though, is to use the Adorning Accents Edgelits and matching embossing folder, to achieve a similar result, with the addition of the Big Shot.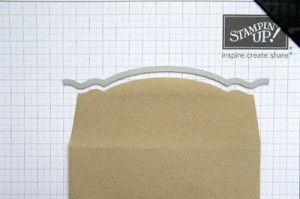 Step 1 – Use the wavy Adorning Accent die to trim away the plain edge of the envelope flap, cutting as close to the edge as possible to retain the maximum amount of gum for sealing the envelope closed.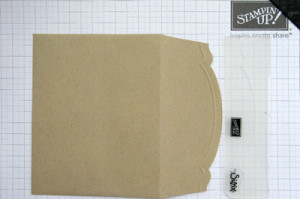 Step 2 – Line up the edge of the envelope flap within the Adorning Accent embossing folder leaving an approx. 1/4″ between the embossing the flap edge. (Tip – place in the embossing folder with the SU! and Sizzix logos face up for an embossed (raised) effect).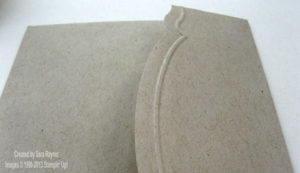 Here's a close up of the die cut and embossed envelope flap.
 Edited to say – By the way, the base envelope is the Crumb Cake Medium envelope (107297) and it isn't the standard C6 size, so please bear that in mind when designing the card to go inside it 

I've added a tutorial for creating your own square seal envelopes with the Scoring Tool.