Would you believe we have another Paper Dolls birthday today? I did warn that we have a lot of them in March 

Today it's the turn of June and as I know she loves a bit of glitz I added some rhinestones and a Designer Builder Brad to her card for a bit of sparkle and class.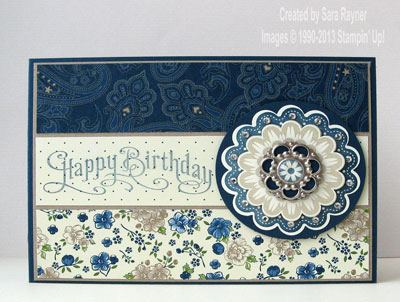 The card base is an A6 landscape of Midnight Muse, matted with Crumb Cake card. Three papers were selected from the Print Poetry DSP Stack (129312) and the palest one was stamped with the sentiment from Perfectly Penned (W122890 or C122892) in Midnight Muse ink. These panels were adhered direct to the card front. The Quint-essential Flower (126790) was stamped twice in Midnight Muse ink and once in Crumb Cake ink onto Very Vanilla card. After punching one of the Midnight Muse flowers with the 2-3/8″ Scallop Circle (118874) it was adhered direct to the centre of a 2-1/2″ Circle (120906) of Midnight Muse card and popped up on dimensionals next to the sentiment. Basic Rhinestones (119246) were added all around the petals. The Crumb Cake flower was punched out with the 1-3/4″ Scallop Circle (119854) and popped up with more dimensionals. Finally a Designer Builder Brad (129329) was added through the centre of a 1″ Circle (119868) punched from Midnight Muse card. It was topped off with an Itty Bitty circle (118309) punched from the centre of the other Midnight Muse flower before adding the dome of the Builder Brad and popping up on dimensionals in the centre.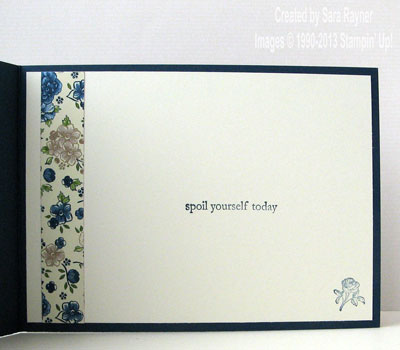 For the inside a matching strip of DSP was added down the left side of a Very Vanilla insert. The sentiment from Bring on the Cake (W121899 or C121958) and the rose from Collage Curios (W129099 or C129102) were stamped in Midnight Muse ink.
Hope you've had a lovely day June.
Sara xx