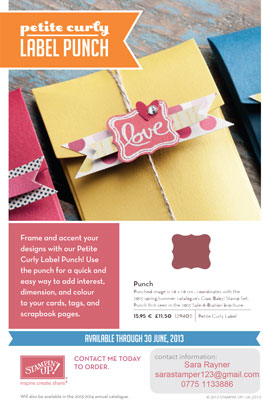 The Petite Curly Label punch (129405) that you could get for free in our recent  Sale-A-Bration (now ended), is now available for purchase!
I know that many of you decided to "spend" your Sale-a-bration freebie(s) on other products, safe in the knowledge that you'd be able to get this punch at a later date

. Well, you can now buy it through to 30 June even though it isn't in the current catalogues and after that it will also be available in the new 2013-2014 annual catalogue.
In case you can't read the small type above , the punched image is 1.9cm x 1.9cm and it co-ordinates with the 2013 spring/summer catalogue's Ciao Baby! stamp set.
This punch also works really well in combination with the Curly Label (119851) and Decorative Label (120907) punches. Here you can see how the punch sizes compare and mat together, the new Petite Curly Label being the smallest of the three.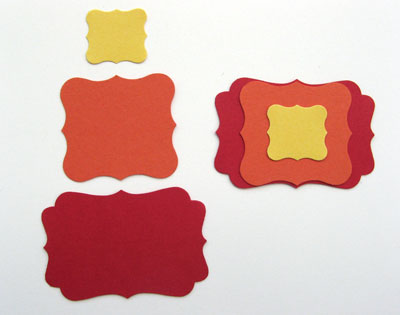 If you'd like to order this punch (or any other SU! goodies) then please email me or give me a call on 0775 1133886.
Sara xx