This week I'm having a play with another of those products that I buy and then can't bring myself to use 

It's the Cute Clips from the Spring/Summer catty. There are two sets of these clips. One has arrows, hangers and thought bubbles, the other has whales, hearts and birds – eight each of the three designs in a pack.
I've used the pinks (Regal Rose and Pretty in Pink) that will be discontinued soon. If you're after these pinks then please don't leave it too late to stock up.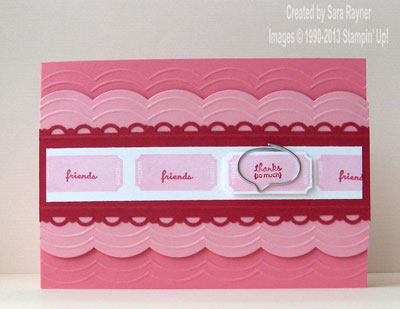 The card base is an A6 landscape of Regal Rose. A narrow panel of Whisper White was repeat stamped with the plain ticket from That's the Ticket (W128072 or C128075) and an extra ticket was stamped onto a scrap of Whisper White. The "friends" sentiment from Tiny Tags (W118091 or C118592) was stamped into the centre of each ticket using Rose Red ink, except for the extra one, which was stamped with the thank you from the same set. This last one was punched out with the Ticket Duo Builder punch (126883). A wider panel of Rose Red card was punched top and bottom with the Scallop Trim Border (118402) and then scored close to the border before adhering the stamped panel direct in the centre. A wide panel of Pretty in Pink card was die cut top and bottom with the Large Scallop Edgelit (127019) and then scored twice above and below with the Borders Scoring Plate (126192). The Rose Red panel was adhered direct between the scored scallops. Another couple of scored scallop lines were added to the card front and then the layers were popped up on dimensionals between them. Finally a speech bubble clip from the Hung Up Cute Clips (129389) was added to the punched ticket which was then popped up on dimensionals over the top of centre stamped panel.
Back soon with that basket weave tutorial that I promised you 

Sara xx