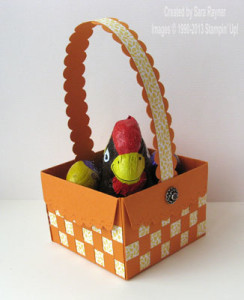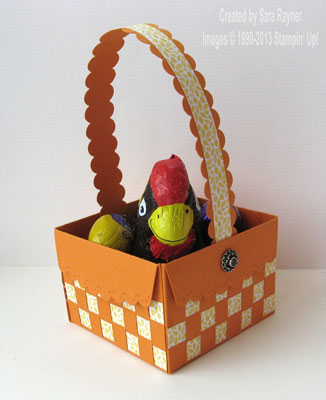 I love finding alternative ways to use SU! products beyond the obvious. This basket is created with the Scallop Envelope die.
It takes four die cut envelopes. Extra interest has been added by weaving strips of DSP through the basket sides.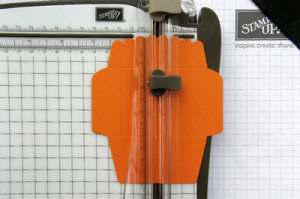 Step 1 – Die cut four Scallop Envelopes. Place an Envelope on the Stampin'  Trimmer with the scallops at the top of the trimmer and the bottom of the envelope aligned with the grid. Starting 1cm from either side tab scoreline, cut vertically between the top and bottom score lines. Repeat every 1cm until approx. 1cm from the other side tab scoreline. Repeat with the other three envelopes.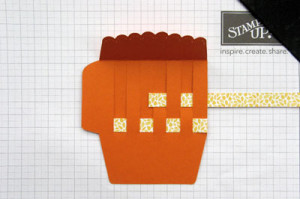 Step 2 – Remove one of the side tabs from the envelope. Fold the scallops over so that the perforated design is clearest on the outside. Cut 1cm deep strips of DSP. Thread the strips of DSP through the vertical cuts, alternating the under/over pattern between one strip and the next. Trim off any excess DSP and adhere the ends of the strips to the envelope. Repeat for the other three envelopes, cutting off the same side tab on each and maintaining the same weave pattern on each.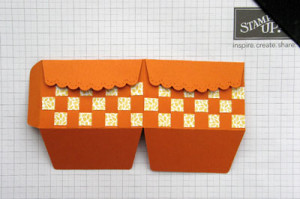 Step 3 – Adhere each cut envelope side to the next side tab. Continue with all four box sides, adhering the last one back around to the first. Fold the envelope bases interlocking into one another. This leaves a tiny hole in the centre of the base which can be covered with a DSP insert if preferred. The perforated scallops can be left loose, adhered flat or popped up over the weave with a dimensional.  Optional – add a handle to basket to finish.