One of my direct team recently achieved her first SU! promotion to Bronze 2. We have an excellent career structure with increasing perks and freebies for those who want to go after it – there's no pressure though, for those who don't want to 

We celebrated her success at our team training but I hadn't had time to make her a card.
That was remedied earlier this week and this was my card to her.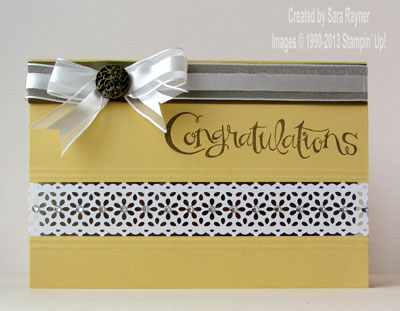 The base card is an A6 landscape of So Saffron. A portion of the card front was cut away and double lines scored above and below the gap using the Scoring Tool (122334). Window Sheet (114323) was adhered behind both portions to bridge the gap and Delicate Details Lace Tape (130966) adhered over it. A strip of Soft Suede card was adhered to the card back behind the Window panel to help set off the Lace Tape. The sentiment from Sassy Salutations (W126705 or C126707) was stamped in Soft Suede ink above the double scored lines. Organza Ribbon (114319) was wrapped around a strip of Soft Suede card and a faux bow of the same ribbon secured in place with an Antique Brad (117273). This strip was adhered direct to the top of the card front. Finally Basic Rhinestones (119246) were adhered in the centres of the Lace Tape flowers.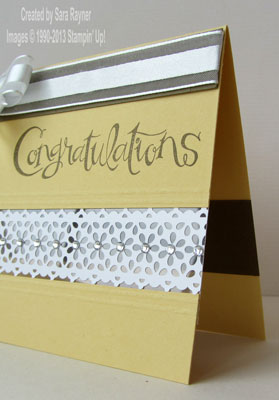 The side view shows how the dark strip inside gives the contrast to the lace.
Well done Suse! Way to go!
Sara xx