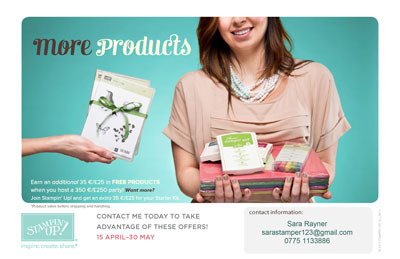 A quick reminder that there's just over a fortnight left to get an extra £25 to spend!
If you host a £250 workshop before 30 May, then you'll not only earn the usual £40 hostess credit that is a regular hostess benefit but … we'll give you an extra £25 to spend!
Email me to book your workshop now, it's not too late … yet, but we are starting to run out of time 

Or, if you join Stampin' Up! before 30 May then we'll also give you an extra £25 to spend on your starter kit, making it £155 of products for just £99!
If you'd like to chat it over first then you can email me and I'll give you a call, or you can sign up now, online with just the following information:
Personal contact information
Credit card payment information
If you have a long wish list and your order is anywhere close to £99 then instead of placing a regular order, then it makes more sense to order the Starter Kit instead (there are more details here). You choose any products* from the current catalogues (either main or Spring/Summer), there's no further commitment if you don't want it (but you can opt to build a business or be a hobby demo getting a discount for yourself and friends) and you'll get the usual demonstrator perks, such as being among the first to see the new catalogue products and a chance to attend Convention! Woohoo, what's stopping you?
* With the one exception of hostess products.