Hope that you're enjoying this gorgeous sunshine

 Isn't it glorious!
A quick share today. These little packets of card candy were another gift for my hostesses at the recent Hostess Appreciation events.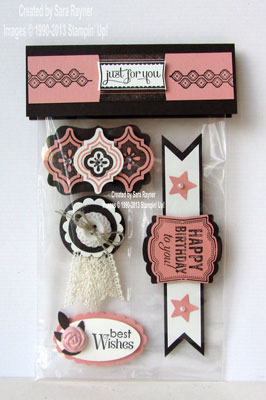 They include a few of our lovely new goodies including the Label Love (W130619 or C130622) and Mosaic Madness (W130246 or C130249) stamp sets and the matching Artisan Label (130920) and Mosaic (131267) punches. Both of these are available as stamp and punch bundles, saving you 15% (Label Love Bundle W132723 and C132722, Mosaic Madness Bundle W132734 or C132733). There's also a Simply Pressed Clay Blossom (Clay 130685, Buttons & Blossoms Mold 131272) and one of our Very Vintage Designer Buttons (129327) on the little rosette.
Everyone also made one of these calendar bookmarks stamped with Happy Hour (W132013 or C126642) cocktail glasses in all the new In Colors, so that they have a handy reference.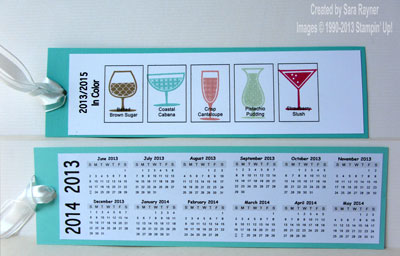 Would you like to get an invite to my next Hostess Appreciation event? Simply email and book an in-person workshop with me or join my Stampers 6 club for a "virtual" workshop.
Sara xx