Stampin' Up! have really added some great gift wrap ideas to the catalogue this year. It's so easy now to co-ordinate your cards and gifts and give a professional finishing touch to any handcrafted gifts (homemade biscuits and sweets, hand sewn projects).
I was so impressed with these Tag a Bag Gift Boxes* (130927) when they arrived – fully flat pack. So easy to put together – the extra sturdy Kraft box just slots together and then the thick acetate sleeve is already assembled, you just fold along the opposite score lines and slide over the box – done! And it's food safe too.
I haven't quite decided what to put in this one (though it's mainly for demonstration at my free Open House this Saturday anyway).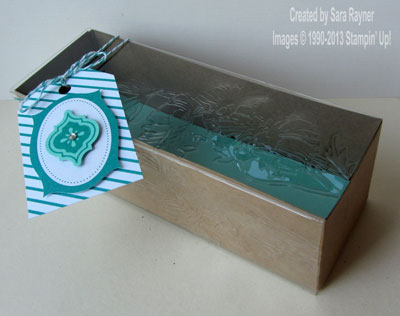 Not sure that the pic really shows it up all that well but I ran the clear sleeve through the Big Shot with the Flower Garden embossing folder (123113). The sleeve is folded so you have to emboss two sides of the sleeve at once. You can make it out on top of the box but you may just be able to see that the sleeve at the side is embossed too. There's a Tag a Bag Accessory Kit* (130153) full of co-ordinating labels, twine, sticker strips, dimensionals and teeny tiny pegs. I picked out a couple of the labels and tied them on with twine. Then I used the Mosaic Madness  stamp set and Mosaic punch bundle (W132734 or C132733) to stamp and punch out a small topper for the tag and finished it off with a Basic Rhinestone (119246). I also lined the base of the box with some Coastal Cabana card.
* If you buy the Boxes and Accessory Kit together as a bundle (131372), guess what – you get 15% off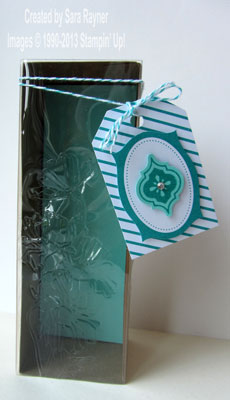 The boxes on their own come in a pack of 8 for £6.25 – so about 78p each.
Adding the Accessory Kit (£11.50 for the box and kit bundle) pushes that up to £1.44 with  extra labels etc left over.
Come along to the Open House this Saturday at 11am to see how solid these boxes are.
Sara xx