Our new Autumn/Winter catalogue launches on 29 August – woohoo! More new crafting goodies! And it's not just for Christmas (where have I heard that before)? As Stampin' Up! is available in so many different countries the catalogue reflects that and there are also ideas for Thanksgiving (just think Harvest Festival) and Halloween too.
Now I'm pretty sure that there'll be quite a few of you out there that are like me and don't send (m)any Halloween cards. On the other hand I do make Halloween treats to hand out to the children that come calling. So I was looking for supplies that I could add to my current stash that wouldn't be confined just to Halloween. The pack of new Washi Tape fit the bill perfectly.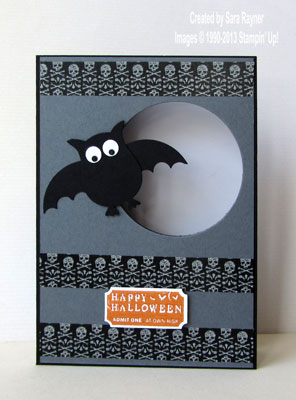 To make this fun card, I combined just one of the tapes (the other two in the pack are more simply patterned and can be used year round) with punches (Owl Builder 118074, 2-1/2″ Circle 120906, 1-3/4″ Circle 119850, 1-3/4″ Scallop Circle 119854, Ticket Duo 126883) and the That's the Ticket sentiment (W131946 or C128075). The owl hangs over the "full moon" aperture in the card.
I think that this particular tape might also work okay for cards for any goth teenagers but as I don't know any, I can't be sure

Have a great long weekend and if you'd like a paper copy of the Autumn/Winter catalogue to mark off your own wish list then please email me to find out how to get one free.
Sara xx