Today's card is one of my minimal supplies designs.
Many people take up card making on the lead up to Christmas as a way to keep the costs down and start a new hobby in the process. For these newcomers I like to have some designs to hand, that only need a single stamp set and one or two colours of card and/or ink. I don't think it gets any slimmer than this on the supplies side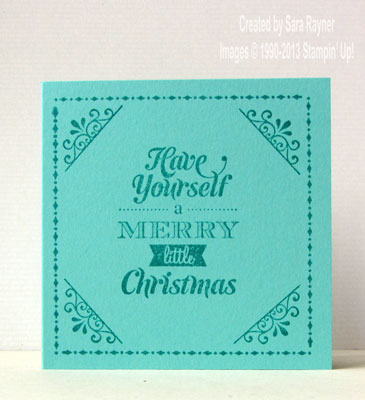 Supplies
Stamp set: Merry Little Christmas (wood mount) – 131826 – £12.95
Card: Coastal Cabana – 131302 – £6.25
Ink: Bermuda Bay – 131171 – £4.95
Tool: Stamp-a-ma-jig (recommended) – 101049 – £10.95
Total =  £24.15 (or £35.10 with recommended Stamp-a-ma-jig)
Cost per card = 34p/49p plus bragging rights
The card is a single layer, 3-1/2″ square (so you can get 3 from each A4 sheet – 72 in total). The colour choice is pale enough to write on, so no need for an insert, keeping postage costs to a minimum. If keen/later on, I'd recommend the use of the Stampin' Trimmer (129722 £25.95) to cut and score the card but to begin with a ruler, pencil and scissors from around the home will work. The border is stamped around the edges first, then the sentiment in the centre and the flourishes in the corners. A stamp-a-ma-jig gets these lined up just right.
Of course as you build up supplies you can start to add extra little touches and decorations 

To order supplies please email me.
Sara xx