Well it looks as though our teething problems have been sorted out finally and our online store is back up and running.

The store lets you … book a workshop direct to my calendar, see where and when you can find me, browse projects and catalogues … and most important of all, it allows you to place your order online, direct.
And to celebrate, anyone who places an order through my store by 7pm on Monday 9 September, will have a chance of being a mystery hostess, with a minimum £25 to spend on goodies.
Here's how it works …
If you're placing an online order of less than £150 …..you will want to use the Hostess Code: S7BM4N4R (this code will only work up until 7pm on Monday 7 September).
If your order is £150 or over …  then please do not use the code because you've earned hostess benefits anyway.
Here's how your screen will look when you're placing the order.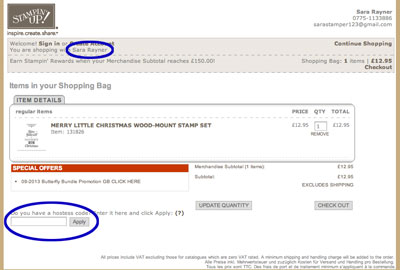 To have a chance of being the mystery hostess, you need to check that you have selected me, Sara Rayner, as your demonstrator and you need to enter the hostess code: S7BM4N4R in the box before checking out (see both areas circled in blue).
When this "virtual workshop" closes on Monday, I'll draw a winner at random from those who placed an order and this person will get to select the hostess goodies, a minimum of £25 but it could be more depending on how large the orders are. Everyone will have an equal chance of being selected as the mystery hostess no matter how large or small the order but please remember that there is a £4.95 shipping cost for each order whatever the size. When placing your order please include a valid phone number /email address so that if you're drawn as the mystery hostess I can contact you and find out what you'd like to choose as your hostess goodies.
After your order has been placed it ships directly to you from Stampin' Up!
Have fun shopping – any problems or questions then please email me.
Sara xx