I've just got back after our day at the Ross Papercraft Show so I'm enjoying a chilled glass of rosé with my feet up – unpacking can wait til later

.
We haven't been terribly busy today but a big thank you to all of you who did stop by to speak to us – it was nice to be able to take the time to chat and share ideas 

 still a successful day in our book!
As I've been busy with the show and our anniversary the last few days I thought I'd share a few cards that I've received from my friend Mari over the last few weeks.
I've not been very well and have been going through a tough time over the summer (which is the main reason that I've had to reduce the frequency of blogposts a little – sorry that I don't post every day anymore but I'm trying to get a little more balance in my life and I do try to post at least 3-4 times a week).
Mari kindly sent me this card Mixed Bunch (W128442 or C125537) and Sassy Salutations (W132070 or C126707).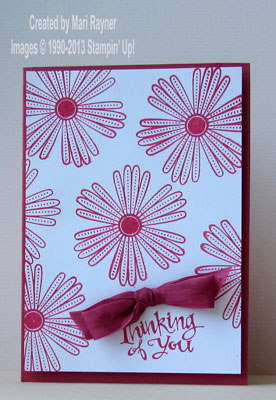 It was really sweet of her and it made a big difference to me.
The other card she sent, just this week, was our wedding anniversary card.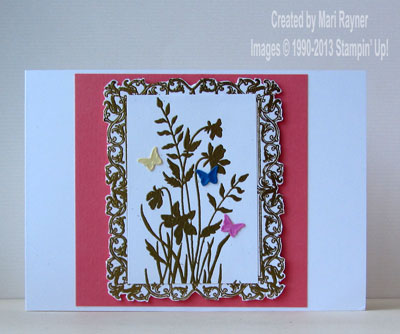 She used the retired set Just Believe,  but the gold embossed frame is from the current set Papaya Collage (W132055 or C126612). All that fussy cutting isn't Mari's usual style, so again I really appreciate the work that has gone into this.
Thanks Mari!
Finally – a quick reminder that the Paper Dolls are having a Pre-Convention Party tomorrow. You're cutting it fine, but it's not too late to join us if you'd like to come along

.
Sara xx