Have you tried My Digital Studio (MDS) yet? You can have a FREE 30 day trial to give it a test drive.
Here are just a few great reasons to give it a go:
it's easy to use and packed with plenty of templates to get you started;
there are plenty of free tutorials on the internet to help you become familiar with it;
the base package is packed with goodies (so it takes a while to download) but you can also choose to purchase additional downloads (they start from around £0.65 or even FREE !) to expand your library;
you can fully personalise cards and other projects;
you can create single layer cards with "depth" and design – perfect for posting;
get the best of both worlds by combining digital and real in a hybrid project (as below);
you can use it to design your own blog banners, buttons and other images (my next project!);
and did I mention, it's a FREE trial – so there's nothing to lose!
Here's my hybrid card.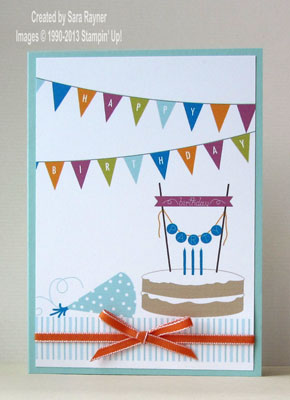 The card base is an A6 portrait of Pool Party. MDS was used to combine three elements from the basic package (no need to purchase any extra downloads for this card); the banners top and bottom, the cake and the party hat. Some of the items were resized (very easy) and some were recoloured (still easy) before printing out onto Whisper White card using my home printer. There are "digital" ribbons that can be added but I like "real" ribbon 

 and so I tied Pumpkin Pie Taffeta Ribbon (119253) around the card front and added a matching bow before adhering the card front centrally to the card.
Try it out for FREE and let me know what you think.
Sara xx