Our Pretty Package bundles are the quick and easy way of gift wrapping your gifts this Christmas but if you want something that really stands out, then why not have a go at this origami box, with a gold and silver snowflake wrapper.
The origami box was made with Eastern Elegance DSP (130131) following Tanya Bell's instructions ( a very talented Australian demo). A belly band made from Brushed Silver (124918) and Gold card (124917) was topped with Festive Flurry snowflakes (132193) die cut from Champagne (127885) and Silver (124005) Shimmer Paper and finally a Frosted Finishes Embellishment  (132150).
Here's the box opened up.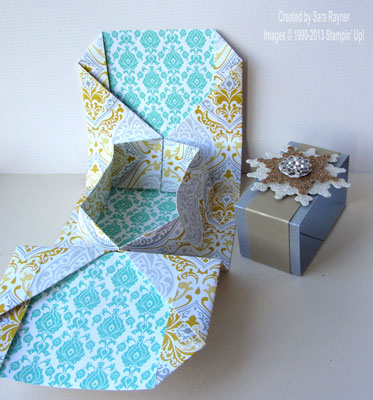 These boxes can be stored flat until needed and then used to wrap up all sorts of gifts.
Sara xx