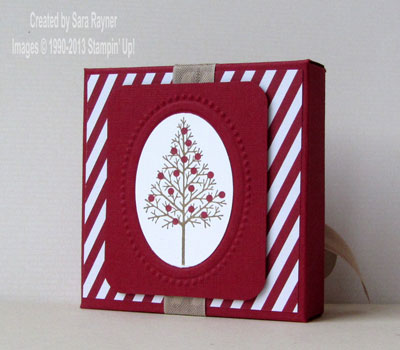 This cute little box is easy to make with the Envelope Punch Board (133774). This version is sized to hold a set of 3″ x 3″ mini cards and their envelopes. Here's how to put it together.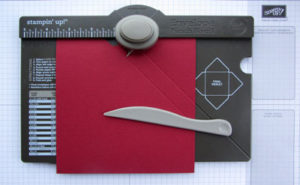 Step 1 – Start with a piece of card 6-1/4″ x 6-1/4″. Line up the edge of the card at the
2-5/8″ mark, punch and score, then move to 3-5/8″, punch and score.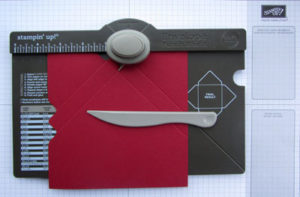 Step 2 – Rotate the card, line up each of the score lines with the score line guide (the plastic bit that extends out from the punch at the top), punch and score again for both lines. Repeat all the way around the four sides.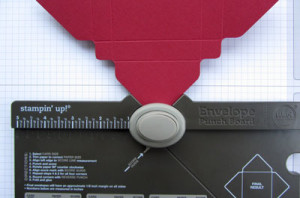 Step 3 – Round the corner(s) as preferred using the the outside punch at the top of the board.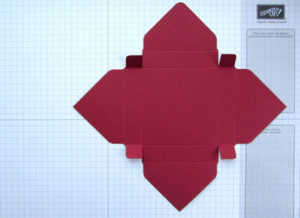 Step 4 – Snip up/down the scorelines of the tiny small squares at each intersection, only as far as the next scoreline (and tidy as needed – there's a tiny curve that you may prefer to snip away). (Tip – you may find it easier to add any matting layers at this stage whilst the box is flat).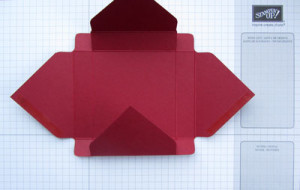 Step 5 – Fold along all scorelines and apply adhesive to the lower outside edge of each side piece (here we used Sticky Strip for a strong bond).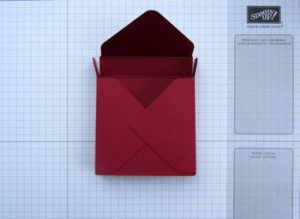 Step 6 – Taking care to keep the box, squared off, fold over each side piece and adhering it to the bottom piece.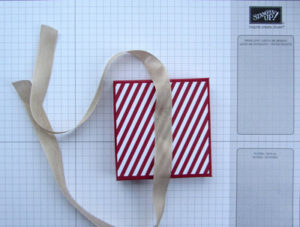 Step 7 – Adhere ribbon to the centre of the box front.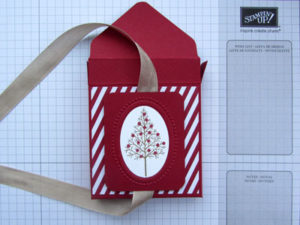 Step 8 – Pop your box topper up on dimensionals over the ribbon. Insert your cards and envelopes and tie the box closed.