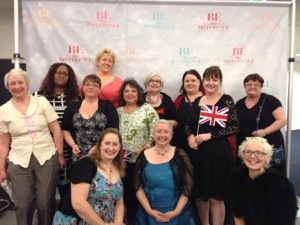 Well, we've been having a blast at convention and there's still another full day of it to go! This is a bunch of the team at the Awards night last night.
There's been a lot of exciting news and I've been sharing it on Facebook as it's been announced so if you want to keep up with today's news then please like our page using the FB button on the right.
We now have an Undefined stamp set that you can carve yourself. There are beautiful new products coming out on 1 December for Valentines but they'll also work well for anniversaries and other occasions. Convention next year will be in Brussels, 16-18 October and our Incentive trip is to Portugal.
We've also been getting lots of sneak peeks from the new Occasions and Sale-a-bration catalogues – so much excitement.
Now I need to head off for breakfast but don't forget you'll get the latest news quickest over on our Facebook page.
Thanks for stopping by.
Sara xx