Don't forget that our Clearance Rack Blitz started today – a great opportunity to grab some crafting bargains!
My main crafting task at the moment is still Christmas cards can you believe! I've been making them throughout the year and still I need more.
I don't know about you but I tend to find the most time consuming part of creating my card, is coming up with the design in the first place and at this time of year I tend to use one design and make multiples of it, perhaps with a switch of colour combo now and again
I think you'd be pretty bored if I kept showing you the same card each post so here's a non-Christmas project. A couple of colleagues at work have recently moved jobs (one of them to my team woohoo!) and so I'm making Congratulations cards to help them celebrate.
And to cut the design time down on these, I combined two different projects that were shared over at UStamp with Dawn and Friends – Wrapping up the Holidays. I combined Heather Dean's Circle shaped card with Teresa Giordano's doily and banner layout.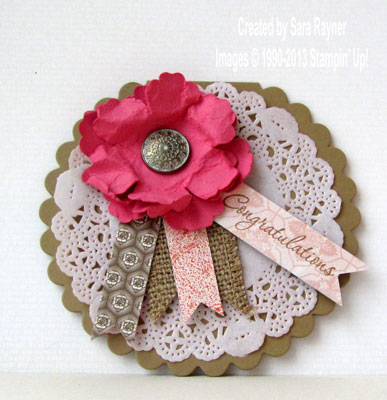 The Congratulations sentiment is actually from Love & Laughter (Wood 128433 and Clear 125477) … but they don't need to know that 

. Venetian Romance DSP (130144) was used for the banners and an Antique Brad (117273) for the flower centre.
What I did wrong …
… I offset the flower, which looks pretty, but because the Antique Brad has some weight to it, the card rolls over unless you stand it up with the Brad top centre (in which case the fold line isn't centred)! Hope this little admission saves you from making a similar mistake 

I'll be back soon with a masculine version.
Sara xx