It's day 11 of our countdown to Sale-a-bration (starts 28 January). Sale-a-bration is our annual Stampin' Up! party, with loads of free products. This year we'll have THIRTEEN! different products to choose from and you'll be able to get one free for every £45 you spend (with no limits to how many you can collect – spend £90, get 2 freebies etc). I'm showcasing a different SAB freebie every day in my countdown.
Today's sneak peek is the final swap from a Paper Dolls team mate, this time from Suse (in return for my Sale-a-bration MDS card). Suse used the Hooray for Parties Digital Ensemble which includes templates for invitations, thank you's and party decor along with digital stamps, DSP, embellishments and punches. She made great use of the Ensemble in MDS to create this 3D biscuit package.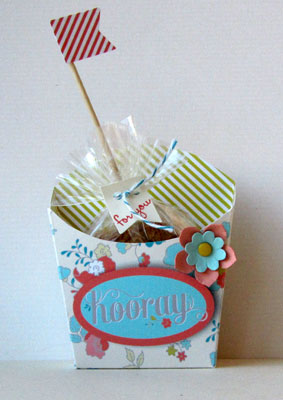 The Hooray for Parties download has a template for the treat box and this was printed on one side of Whisper White card and one of the background papers on the other. After cutting out and assembling the box, a cute little Boho Blossoms (119858) punched flower was added to the outside and a Candy Dot (130932) finished the centre. The sentiment from Sweetly Framed (hostess exclusive Wood 129699 or Clear 129702) was stamped and punched out with the Banner punch (another SAB freebie). This banner was tied onto the biscuit package with Island Indigo Baker's Twine (125575) and another banner attached to a cocktail stick and stuck in the top.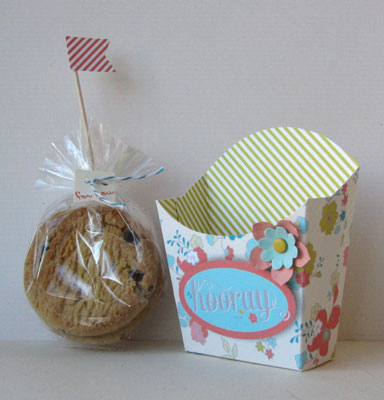 The "hooray" sentiment that you see on the front of the pouch is simply printed as part of the design, not punched separately (it really looks very 3D doesn't it).
A big thank you to all my team mates that swapped with me, it's really helped me to cover the full range of Sale-a-bration freebies in this countdown (there's still another couple to go before the launch). That's one of the big advantages of being part of a team of demonstrators, we can share ideas and samples and help each other out when we suddenly realise we've run out of supplies! 

If you'd like to join our team then I'd advise you to hang on just another couple of days – if you join up during Sale-a-bration then you'll get more "bang for your buck" as they say across the pond … but if you simply can't wait, then you can sign up here.
Meanwhile if you'd like to see more Sale-a-bration goodies and samples then please stop by and visit our stand at the Ross Papercraft Show at Westfield, tomorrow.
Hope to see you there!
Sara xx