How would you like to learn how to make this sweet little kimono card?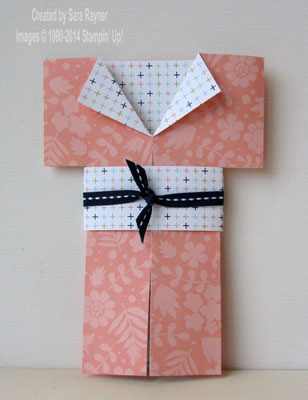 This is just one of the projects that you could choose from if you book one of my  workshops. What could be better on a cold, rainy evening or afternoon than to have a fun couple of hours with a group of friends, learning to make stunning but simple cards that will WOW those lucky enough to receive them!
Contact me to book and we'll have a quick chat to set a date and time for a workshop at your home or usual meeting place. I'll check with you the level of crafting that you and your friends are at (I have projects to suit everyone from complete beginner to advanced) and suggest projects that I think will suit you all.
Your workshop can be tailored to either:
a free craft session, after which you and your friends choose which products you want to buy from the catalogue; or
a class where everyone pays a fee to cover expenses but isn't expected to make any other purchase (though you can still choose to do so if you wish).
Hold your workshop now, during Sale-a-bration and you and your friends can benefit from the FREE Sale-a-bration goodies too!
Sara xx