A share from a guest designer today – this was a wonderful Christmas gift that I received from one of my SU! demo friends. She used lush metallics from the Spring Summer catalogue to dress up a plain vanilla candle.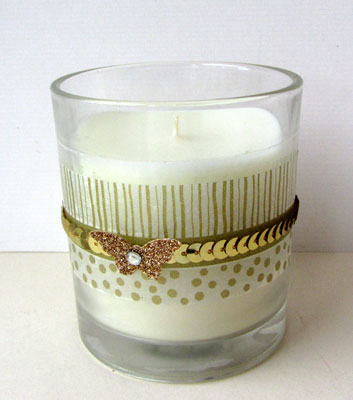 Each one of the Watercolor Wonder Washi Tapes (133000) was wrapped around the candle holder. Gold Sequin Trim (132983) was wrapped around, over the top of the solid gold washi tape. Bitty Butterflies (129406) punched from Champagne Glimmer Paper (127885) were adhered at the front and back of the candle holder (covering the joins at the back) and finished with a Basic Rhinestone (119246).
What a fabulous way to dress up a candle!
So how did she get hold of the Spring Summer goodies so early? Well, besides the fact that all demonstrators  get to see them a month before everyone else anyway, we also got a pack of the washi tape at convention!
If you'd like to be able to get hold of catalogue goodies a month early and/or attend convention, then now is a great time to sign up as a demonstrator.
Sara xx