Today's project reminds me of a mexican piñata. Do you see it too?
This tag will make a bright addition to any birthday gift.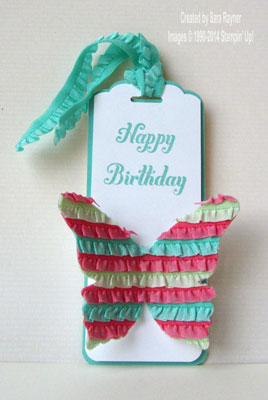 The base tag of Coastal Cabana  card was punched at the top with Scalloped Tag Topper (133324) and at the bottom with the Corner Rounder (119871). Another, identical tag was punched from Whisper White card for the back and a third, slightly smaller on both sides was punched, also from Whisper White card for the front. The sentiment from Bring on the Cake (Wood 128490 or Clear 121958) was stamped in Coastal Cabana ink near the top of the smaller, front tag before popping it up on dimensionals on the Coastal Cabana tag. A piece of Whisper White card was covered with Sticky Strip and then with layers of Ruffle Stretch Trim in Strawberry Slush (130023), Coastal Cabana (130024) and Pistachio Pudding (130020), before cutting out with the Bigz Beautiful Butterflies (114507) die. The wings of the butterfly were shaped before adhering to the front of the tag.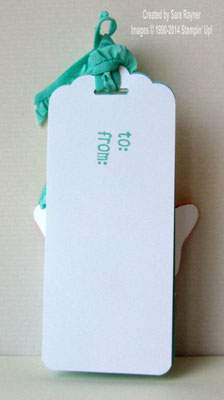 The "To" & "From" from the Tag It set (Wood 130300 or Clear 130303) were stamped in Coastal Cabana on the larger Whisper White tag and then Coastal Cabana Ruffle Stretch Trim was tied through all the layers, ready to add to a gift.
Great fun!
Sara xx