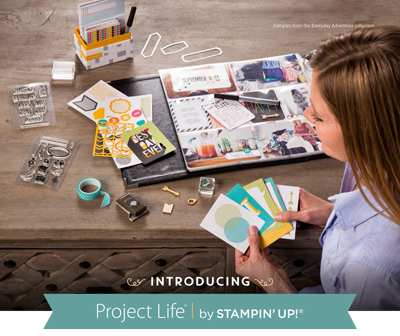 Some say scrapbooking takes too much time. And it can do … the old way.
But Project Life is quick, easy and has a fresh approach. It couldn't be simpler: slip photos, mementos, and journaling into an album with Photo Pocket Pages. That alone will give you fabulous results (no scissors or glue required)!
And for those who don't do simple, you can embellish your photos or cards with Project Life accessory packs or stamps. Our accessory packs are designed to coordinate perfectly with our card collections which makes stepping things up super simple.
For those who have come across Project Life already, it's the same great concept – since we've partnered with it's creator Becky Higgins … and we've combined it with the quality and colour matching and combining that Stampin' Up! is renowned for.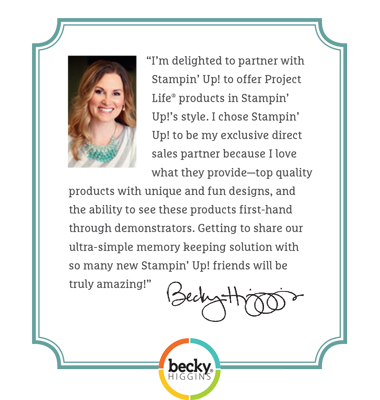 Project Life has now landed at Stampin' Up!
There will be a full line of Project Life products available in the Annual Catalogue when it launches 1 July, but we're offering a selection of that range from today – a full three weeks early!
Just click on the Item or the Code below, to go direct to the shop and order.
Item
Code
Description
135294
Variety Pack 12″ x 12″ Project Life Photo
Pocket Pages
12 pages: 2 ea. of 6 designs.
7,95 €/£5.95
135298
Everyday Adventure Project Life Card Collection
100 double-sided, color -coordinated cards in 3 sizes:
4″ x 6″, 4″ x 4″, and 3″ x 4″
17,95 €/£13.50
135301
Everyday Adventure Project Life Accessory Pack
4 3″ x 4″ specialty cards; 8 sticker sheets;
1 acetate accents sheet; 8 wood accents;
2 epoxy stickers; 4 arrow paperclips;
1 roll washi tape (5 yds.)
11,95 €/£8.95
135304
Project Life Journaling Pens
2 pens (01 and 05)
5,95 €/£4.50
135346
Project Life Corner Punch
9,50 €/£7.25
135707
Cards & Labels Project Life Framelits Dies
5 dies
27,95 €/£20.95
135785
Project Life Day to Day Photopolymer Stamp Set
42 stamps
30,95 €/£22.95
136706

Project Life Au jour le jour
(Day to Day Set in French)

30,95 €/£22.95
136707
Project Life Tag für Tag Photopolymer Stamp Set
(Day to Day Set in German)
30,95 €/£22.95
135787
Project Life Point & Click Photopolymer Stamp Set
26 stamps
18,95 €/£13.95
If you have any questions about this great new product suite, just leave me a comment.
Sara xx