Yesterday I shared my first Project Life scrapbooked page and I'm looking forward to sharing this and showing it to to my friends and customers in real life because I'm impressed at how truly easy it is to do. But I also know my friends and customers well and I know that they won't easily be converted … so I want to show what else you can do with the Project Life Card Collections (these are primarily journaling cards) – just in case they decide not to carry on scrapbooking. All is not lost or wasted because these supplies are also fabulous for card making.
The card collection costs £13.50 and has 100 double sided, colour-co-ordinated cards that come in 3 sizes (to coincide with the size of pockets in the page protectors):
4″ x 6″
4″ x 4″; and
3″ x 4″
Spoiler alert – there are one or two sneak peeks further down.
I decided to use the Project Life Card Collection to put together a card for this week's sketch challenge over at SUDSOL.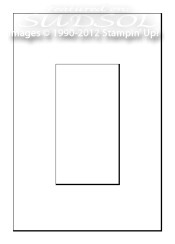 And this is my card: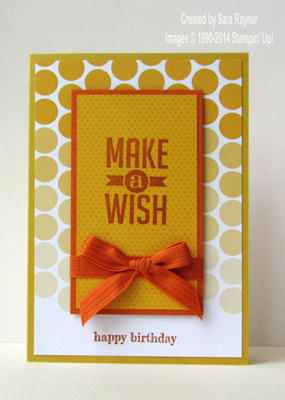 An A6 portrait card base of the new In Color, Hello Honey*, was matted with a card from the Everyday Adventure PL Card Collection (135298) that had been trimmed slightly to fit. This was then stamped at the bottom with a sentiment from a new stamp set, Something to Say, in Tangelo Twist* (another new In Color). Another, smaller card from the Everyday Adventure PL collection was trimmed narrower, to fit the sketch, then stamped with a sentiment from Perfect Pennants (Wood 133227 orClear 133230) in Tangelo Twist ink. This was matted onto Tangelo Twist card and wrapped with some Tangelo Twist Stitched Satin Ribbon before popping up on diemsnionals on the card front. A bow of the same ribbon was added with Glue Dots to finish.
*  (The colours in the collection are actually Crushed Curry and Pumpkin Pie but I'm enjoying the new In Colors at the moment)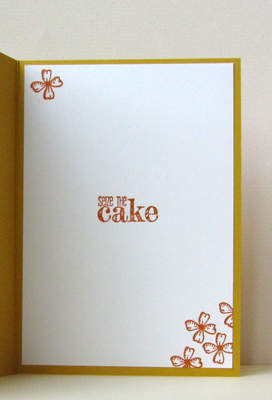 On the inside, the other half of the sentiment and some flowers from the Something to Say set were stamped in Tangelo Twist ink.
Although the stamp set and the In Color items won't be on sale until 1 July, you can order the Project Life Card Collection along with some other Project Life items already.
Have a great weekend.
Sara xx