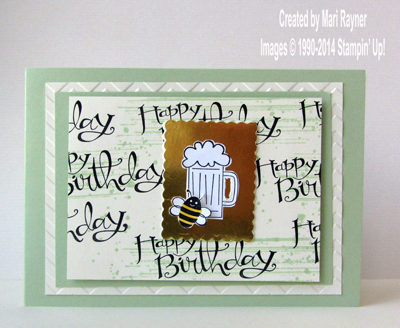 A few days ago I shared this card by guest designer Mari Rayner and it reminded me what a great technique this is for creating your own quick and easy background paper.
Sometimes called a one sheet wonder (because you cover a whole sheet with a design) you can use any combination of stamps. Teaming a large sentiment with a couple of graphic designs lets you tailor the background for a special occasion.
I particularly liked how Mari had used Gorgeous Grunge and Sassy Salutations and I've CASEd her stamp combo here but used a different colour combo. I've used a half A4 sheet of Whisper White as my base so that I'll be able to create two card fronts with it but it would only take seconds longer to stamp a full sheet and end up with four card fronts.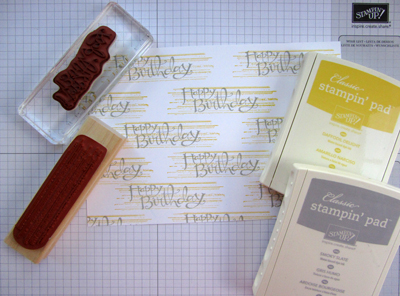 Step 1 – Stamp your base in either a random or repeating pattern (here we used the stripes from Gorgeous Grunge with Daffodil Delight ink). Stamp over the top with the sentiment in a darker/contrasting colour ink (here – the birthday sentiment from Sassy Salutations with Smoky Slate ink).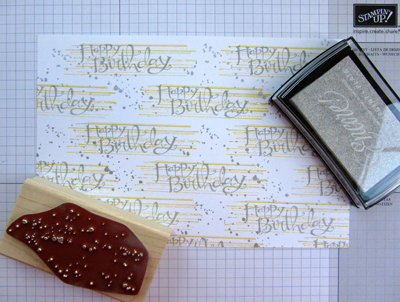 Step 2 – Stamp a more scattered/smaller design in a pale colour in between the patterns created already (here we used the small speckles from Gorgeous Grunge with Metallic silver ink).
Step 3 – Cut the background card down to appropriate sizes to use on your card front.
So next time you don't have exactly the background you need, try creating your own custom design 🙂
Sara xx