I've mentioned that we have plenty of gift packaging ideas in the Autumn/Winter catty and I'm back with another option today.
Each package of Festive Designer Kraft Paper Rolls contains two rolls; one has white stripes and the other fancy ovals, both are blank kraft on the other side. Each roll is 0.46m wide x 4.6m long – that's plenty on each roll. The oval design matches one of the Under the Tree Specialty DSPs.

Although part of our Autumn/Winter offering, these paper rolls are great for gift-giving year round. I used some to wrap one of my Mum's birthday gifts.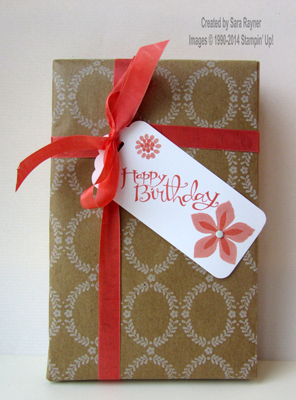 The gift was wrapped with the oval design of the Kraft Paper Roll then tied with Calypso Coral Seam Binding Ribbon. A tag was crated with Whisper White card and the Scalloped Tag Topper punch and PL Corner punch. A sentiment from Sassy Salutations was stamped in Calypso Coral  and flowers from the Flower Patch set stamped in a a combo of the same ink and Crisp Cantaloupe. A Neutrals Candy Dot was added to the centre of the larger flower before tying the tag on.
Our December class will be all about gift wrapping and we'll be using these paper rolls  as part of it 🙂
For now, enjoy the summer bank holiday weekend!
Sara xx