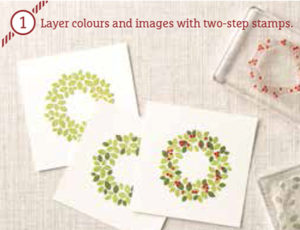 The Autumn/Winter catalogue contains a whopping 18 photopolymer stamp sets (many of them available in bundles with matching framelits or punches).
Here then are the pros and cons of using photopolymer stamps, along with a few tips for getting the most from them.
Pros of photopolymer
Totally clear – so you can see exactly where you're stamping – ideal for two-step stamping
Jelly like material – clings easily to clear blocks without falling off
Cheaper – less expensive than Wood or Clear equivalent stamps
Flexible material – so you can curve stamps around slightly or keep them straight
Slimline – packaged in DVD style case so takes up less room on your craft shelves
Packaged with printed sheet – so you can spot if you have any stamps missing
Cons of photopolymer
Less durable and long-lasting – than either Wood or Clear stamps
No cushioning – so needs a very even pressure to get best results
Stains easily – even when cleaned immediately
Tips
1 – Brand new stamp sets may still have a residue left on them from the manufacturing process when they arrive from the warehouse. This can cause the ink to pool a little, leading to uneven stamping. Simply clean the stamps with Stampin' Mist and Scrub before using them for the first time.
2 – As photopolymer stamps don't have the foam cushioning of our Wood and Clear mount stamps, it helps improve the quality of stamping, to add a little cushioning beneath your card/paper. Put a Stampin' Pierce mat underneath your card to serve that purpose.
3 – Clean stamps immediately after use to reduce staining. If using Stazon then clean immediately with Stazon cleaner and then again with Stampin' Mist (or a little washing up liquid and water mix) to remove all traces of Stazon cleaner. (The harsher Stazon cleaner can denature the photopolymer quicker than through normal use).
4- Handle stamps gently. Peel/roll them off the printed sheets/clear blocks, try not to tug too hard as this could tear more fragile shaped photopolymer stamps.
5 – Replace stamps onto their printed sheets inside the DVD style case and store away from sunlight.
Follow these tips and your photopolymer stamps can still last a long time.
Sara xx