Can you believe that I only made 32 swaps for convention this year!
Between work commitments and holidays I suddenly found that convention had crept up on me and I ran out of time 🙁
Luckily for me, I've just booked to go to our Leeds Sale-a-bration Tour in November – demos attending will get a sneak peek of Sale-a-bration and it will also give me another opportunity for lots of swapping. (If you're thinking of making the most of the free DSP offer and joining up then you could come along with me 🙂 )
Think I'd better get started on my swaps this weekend otherwise I'll get caught out again 😉
Anyhow, although I only made 32 swaps I used three different designs – here's the first: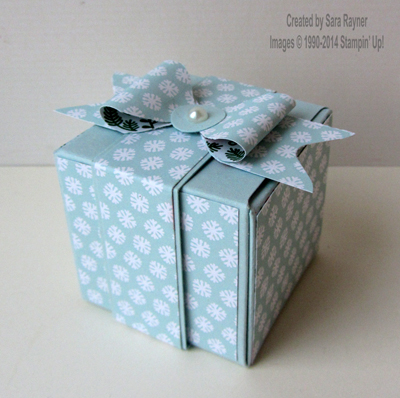 The box is the dinky version made with the Gift Box Punch Board and a 6″ x 6″ sheet of Soft Sky card. It was decorated with Nordic Noel DSP and then a belly band of the same card and DSP wrapped around. The Envelope Punch Board was used to create a gift bow from matching DSP which was finally topped with a 1/2″ Circle punched from Soft Sky card and then a Basic Pearl.
Different versions using other sheets from the DSP pack were made with Real Red and Garden Green card as the base.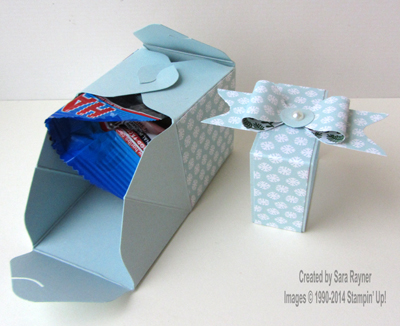 Each dinky box had a little packet of sweeties inside.
Thanks for stopping by.
Sara xx