Merry Christmas Eve to you!
Need a bit of therapy to sooth you after all the Christmas Preparations? These little ornaments for the tree are a great way to wind down.
My video for them is a bit of an oldie … but it still works:)
When I was showing colleagues at work how to do these, I realised that I don't make it clear in the video, you need to fold the open (not the folded) corners down.
I've updated the wreath this year with some more contemporary colours.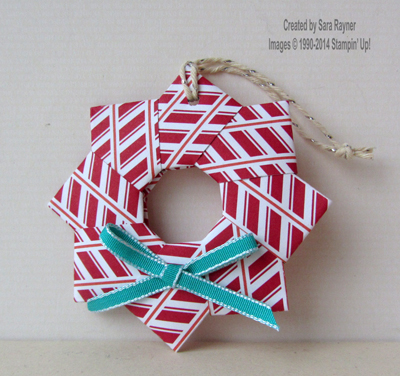 Nordic Noel DSP was used to make the wreath (I cut the pieces at 3″ x 1-1/2″). Bermuda Bay Taffeta Ribbon was tied in a bow and added with a mini glue dot and  Silver Baker's Twine used for the loop for hanging it on the tree.
Have fun and I hope that Santa brings you all you wished for. Just one more sleep to go! 🙂
Sara xx