Here's a little advance notice of our planned March classes:
SATURDAY 14 MARCH 2015
11AM – 1PM
Our March technique class is all about sliders. We'll make a window slider card, a pull up slider card and also a slider treat.
Location: St Saviour's Church Hall, Mortomley Lane, High Green, Sheffield
The £35 class fee includes nearly £30 of products including:
Balloon Bash (photopolymer stamp set);
1/2 pack Birthday Bash Specialty DSP.
You'll also receive:
all additional materials needed to make two slider cards plus a slider treat;
face-to-face instruction on the day;
printed instructions to take away;
refreshments.
If you already have the products we will use in class, then you may substitute other products of equal or lesser value at the point of booking.
Class fees must be received by Thursday 5 March to secure a place (to allow sufficient time to order your kit). If  an emergency prevents you from attending the event after booking, then your class materials will be posted to you.
Bookings for this class have now closed. Please check back soon for details of our April technique class.
March Card Classes
We've updated our classes recently to make them more accessible to all levels of crafter and to make them a little more relaxed – since so many people come along as much for the social side, as for the crafting. For those who like the tricky stuff, we still have Technique classes.
Our monthly Card Class slot gives you chance to make 6 cards. We feature three different stamp sets and we'll have a simple design and a slightly stepped up design for each.
Come join our February Card Class. We'll be using:
Sea Street
Big Day
Pleasant Poppies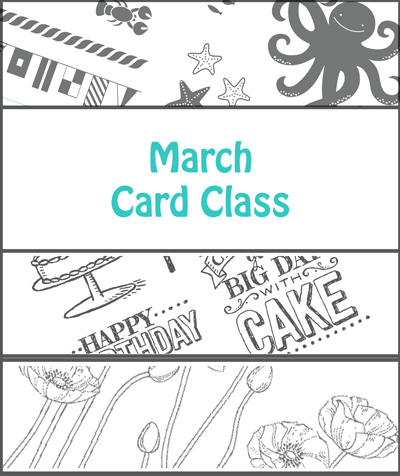 We have a choice of locations and times:
Date and time: WEDNESDAY 11 MARCH 2015, 7PM – 9PM
Location: Pollyfox Centre, Pollyfox Way, Dodworth, S75 3QR
or
Date and time: SATURDAY 14 MARCH 2015, 1.30PM – 3.30PM
Location: St Saviour's Church Hall, Mortomley Lane, High Green, Sheffield
The class costs £15.00 or is FREE with a minimum order and includes:
all materials needed to make the cards, along with envelopes;
face-to-face instruction on the day;
refreshments.
Bring a New Friend* with you for some added fun, and you will BOTH get a free goodie bag.
To book your place(s) at either class, please RSVP to Sara no later than 7 March – places are limited and allocated in order of RSVP date.
Hope to see you there.
Sara xx
* A New Friend is someone who hasn't attended our classes in the last year.