Tomorrow is the final chance to sign up and join our March Sliders Class. We'll be making a window slider card, a pull up slider card and also a slider treat (see below).
Today we thought we'd share a Mother's Day version of the window slider card.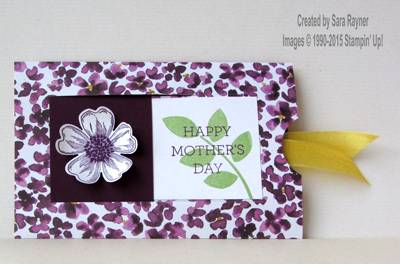 The outer wrap for the slider is Painted Blooms DSP and the inner slider is Blackberry Bliss card, stapled with Daffodil Delight Seam Binding Ribbon. Using Blackberry Bliss ink the sketched and shaded flower from Flower Shop was stamped onto Whisper White card, punched out with the Pansy and popped up on a dimensional on the slider bar. The leaves from Crazy About You were stamped in Wild Wasabi ink onto the panel of Whisper White and then the sentiment from the same set stamped in Blackberry Bliss over that top of it.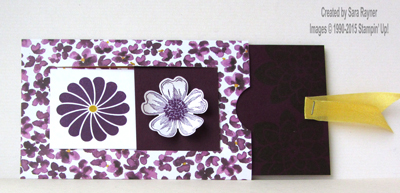 The slider pulls back to reveal the smaller flower from Crazy About You stamped in Blackberry Bliss and the centre coloured with a Crushed Curry marker. The larger flower was stamped onto the pull out portion of the slider with Blackberry Bliss ink.
These are the sliders that we'll be making at our class on Saturday 14 March and all attendees will receive instruction sheets to be able to make their own further versions of slider cards at home.
Bookings for this class have now closed. Please check back soon for details of our April technique class.
Hope to see you at class.
Sara xx