This Christmas card that I shared on Friday uses the very intricate Delicate Ornament die.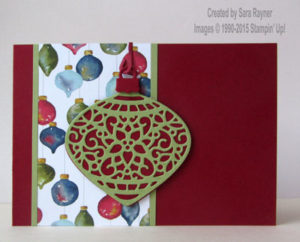 These intricate dies (the ones with lots of metal spokes involved) can be a little difficult to cut cleanly. I have shared a few tips for this in the past, in terms of using a layer of greaseproof paper between the die and the cardstock and using a paper or card shim on top, if the die isn't quite cutting through. Those tips were followed when creating this card.
However, Stampin' Up! have brought out a new product to help cut the intricate dies cleanly, without having to fuss with extra papers etc. The new Precision Base Plate replaces all that.
SU! have a couple of videos to show how it works in action:
I'll be back soon showing this intricate die in action again.
Sara xx