I succumbed! These pyramid box dies were introduced in the Spring/Summer catty and I resisted for the first few months but they somehow snuck into my order a couple of weeks ago! 😀
And I'm so glad they did. My first thought is that they're actually a little smaller than I expected (which means they'll be perfect to hang on the tree at Christmas) and my second thought was how easy they are to put together. I was visiting my nephew at the weekend and whipped up this little box in about five minutes flat.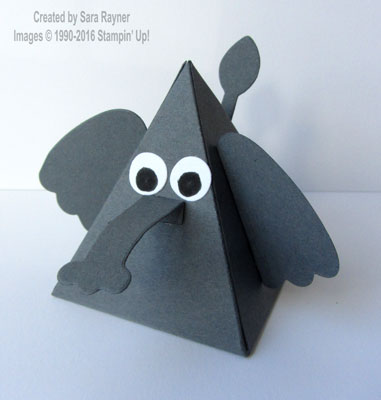 The triangular base (x2), ears (x2), trunk and tail were die cut from Basic Gray card with the Pyramid Pals thinlits die and the eyes were die cut from Whisper White card. After folding and adhering the two base pieces together, the other body parts were also adhered in place (you need to remember to fold one ear one way and the other the opposite way – ask me how I know!). A Basic Black marker was used to draw in the centres of the eyes.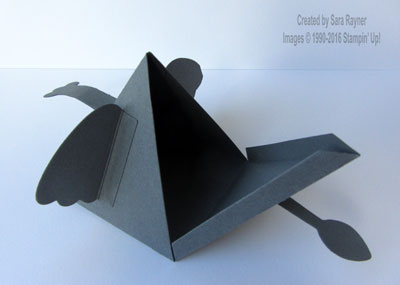 The back was left unglued so that it simply opens up by pulling on the tail and inside we popped about 8 fruitella sweets. My nephew did pull the tail off – forgot that a 3 year old doesn't have much concept of gentle, but he had fun with it and that's what matters.
I really hope that these carry over to the new annual catalogue in June – they'll be great for Christmas treats for grown-ups as well as creating a mini zoo for the little kids! 🙂
Sara xx