I'm in the middle of my acupuncture exam revision at the moment but I do keep taking a bit of time out for crafting (it helps to exercise the other side of the brain too, lol). And I'm using my new goodies, pre-ordered from the new catty (out on 1 June).
First out of the box was the new In Colors. I've put them together on these bookmarks as samplers but they don't look that great together, they work much better with colours from other families. For example the Dapper Denim is perfect with Mint Macaron (more of that combo another day).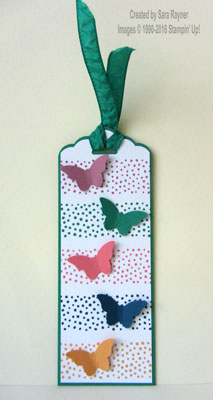 So let me introduce you – working from the top here we have Sweet Sugarplum, Emerald Envy, Flirty Flamingo, Dapper Denim and Peekaboo Peach. The bookmark was punched from one of the In Colors (this one, Emerald Envy) and again from Whisper White card using the Scalloped Tag Topper. Each In Color was stamped onto a Whisper White layer with a spotty design from the new Perfectly Wrapped stamp set and a matching In Color Bitty Butterfly adhered over the top. Finally Ruched Ribbon to match the base colour bookmark was tied to the top.
Here's the batch of them, two of each In Color.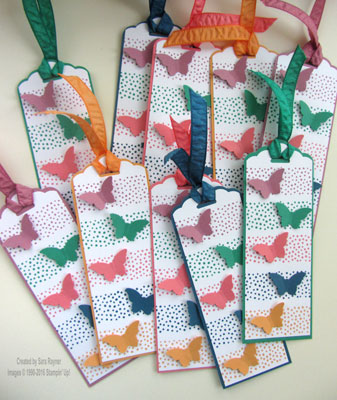 Have a great weekend and I'll have more sneak peek projects for you as we lead up to the new catty launch.
Sara xx