How are you enjoying the new annual catalogue? Got a long wish list yet? 😀
Well those lovely peeps at Stampin' Up! have some great offers this month to help you get the most bang for your buck! (And they don't usually spoil us as much as this in the month the catty launches so … "thanks SU!").
You can get extra whether you host a party or join up.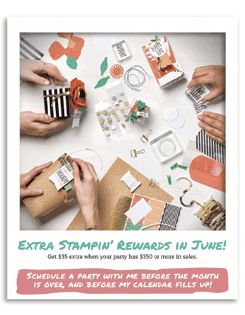 Stampin' Up! parties are the best kind of parties: you can hang out with friends, make cute projects and get free products. Yes – FREE! Plus, you can get even more free products in June. You'll get £25 in Extra Stampin' Rewards when you host a workshop/party/private class with £250 or more in orders before 30 June. That's in addition to the usual 10% or more of sales you get as rewards.
You can use Stampin' Rewards to buy any catalogue product, or you can use them for exclusive hostess-only items. Want more? You can also use your Stampin' Rewards towards becoming a demonstrator.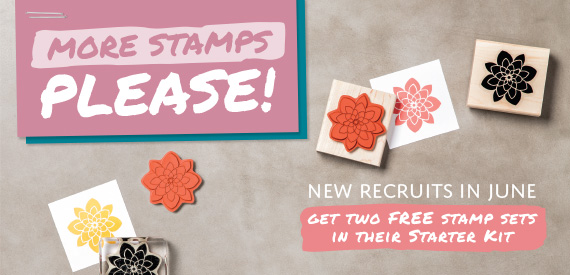 That's right! Everyone who joins my team this month will get two extra FREE stamp sets in their Starter Kit. That's an added value of up to £92, depending on which stamps you choose.
You choose your own starter kit, paying just £99 for £130 of products of your choice, plus business supplies, free shipping on the kit and those two additional FREE stamp sets.
If you'd like to book a party then please email me ASAP as my June diary is already pretty chocka!
To join my team, sign up now!. You can do it online with just the following information:
Personal contact information
Credit card payment information
You'll receive a welcome email from Stampin' Up! and from me, followed up by a welcome package from me by snail mail!
Hope to hear from you soon.
Sara xx