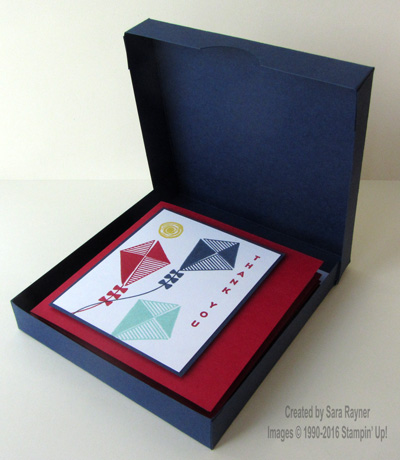 Over the last few posts I've shared some small thank you cards and matching gift box to package them in.
As promised, here is a quick tutorial for making the "pizza style" gift box.
The thank you cards were small square cards, 4″ x 4″ and the envelopes sized just a little larger. Although the envelopes were a snug fit, I was able to make the box from an A4 sheet of card rather than needing to start with a 12″ x 12″ sheet.
The A4 card was cut to 11-1/4″ x 6″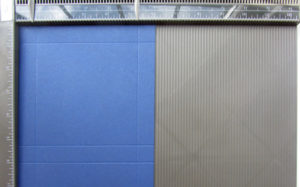 Step 1 – Place card on score board portrait ways (short edge at top) and score at    3/4″ and 5-1/4″.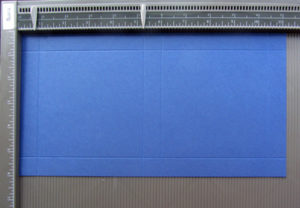 Step 2 – Turn card on score board landscape ways (long edge at top) and score at    3/4″ and 5-1/4″. Rotate card 180° and score again at 3/4″ and 5-1/4″.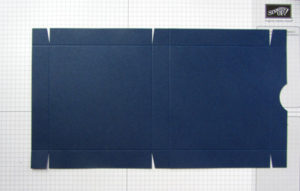 Step 3 – With card landscape ways, snip along vertical score lines as far as horizontal score lines both top and bottom (four snips on both top and bottom). Snip a small "v" on outer snipped edges and just one of the inner snipped scorelines, matching top to bottom (see pic) (three snips on both top and bottom). Punch a small semi-circle from the centre of the vertical edge on the side that has a "missing" "v" (see pic).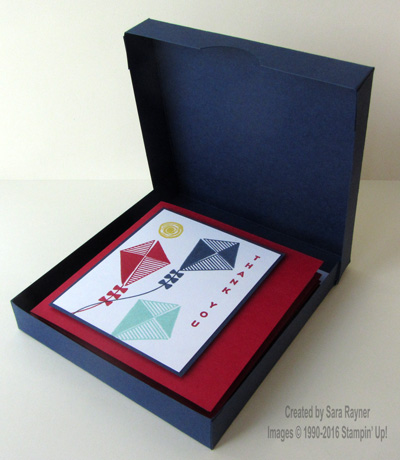 Step 4 – Fold and burnish with a bone folder along all scorelines. Fold in and adhere all small squares to box edges. Allow adhesive to dry before adding envelopes and cards.
Hope this helps.
Sara xx