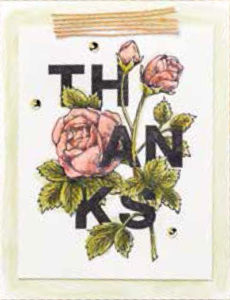 Do you know that I offer a special Thank You Bonus to customers shopping with me online?
To get the bonus:
Check that you're shopping with me – my name (Sara Rayner) should be in the top right hand corner of the shopping screen;
When you place an order of any size with me, whether direct or online, you'll receive a hand crafted thank you card from me;
When you place an order of over £20 in my online store and use the Crafting and Stamping Monthly Host Code, you'll also receive a Thank You Bonus from me;
If you plan to place an order of over £150 then please read the information in the next section first;
Thank You Bonuses vary from month to month. The more people that use the code, the higher the total goes and the more Rewards I can use to give back Bonuses. As an example though you may receive a sampler set of ribbons, 6″ x 6″ sample pack of DSP,  a pack of embellishments or even a stamp set;
I mail Thank You Cards and Bonuses out around 1-2 weeks after the end of the month (don't worry – this doesn't delay your order at all, which will be delivered by SU! usually within a week of submitting it), so if you order in July you'll receive your bonus in August;
Please note that if you choose to receive "no contact" from me, then I won't receive your contact details and therefore won't be able to send you a card or bonus.
If you're interested in shopping then use this month's
Crafting and Stamping July Host Code
6J7DSR7T
after filling your shopping basket here. Enter the code in the box underneath the words HOST CODE in the lower left corner of the shopping basket screen.
Plan on Placing a Large Order?
If your order is over £150 then please don't use the code as you qualify for Stampin' Rewards and at the end of your order you will be able to choose your own bonus(es) PLUS you will also receive an extra bonus from me to say thank you!
Sara xx